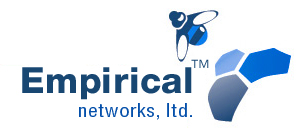 Your IT Provider & Partner

Empirical Networks brings securely managed control to your business, community or school IT network. We take away the worry. Our experienced engineers partner with your IT staff to monitor, manage, and respond to your network's daily needs, as well as its future demands. With Empirical Networks, your time and resources are focused on your core business, because your network is our only focus. We've done the job 24/7 for nearly a decade. Know More
Investigate Our services


Services
At Empirical Networks we build and service client networks, enterprises and needs as we build trust through effective performance.

Click Here

Compliance & Regulatory Support
At Empirical Networks we partner with clients to meet regulatory challenges.

Click Here

Protection and Continuity
Data security and availability are of utmost importance to your business and ours.